POOL TABLE PAD
Full 5/8 in. thick pool table pad.
Includes Foam Support Inserts to support top surface.
550 degrees of heat protection.
Exclusive aluminum heat shield.
Patented pivot locks keeps sections of pads together when in use.
Washable, heavyweight vinyl top covering, available in 4 colors.
Soft supersuede material on base of pad, available in 3 colors.
Solid coreboard construction that is strong, resists warping, yet is light enough to handle.
Manufacturer's Warranty 2 Year.
All pad pieces fold for easy storage.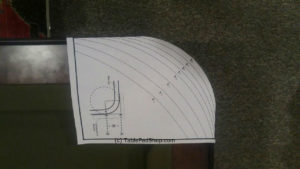 We can make a pool table pad for you with the dimensions you provide (length and width). We would also need to know the radius of your corners in order to complete the pad.
We recommend that you take scissors and cut around the radius that appears to be closest to your table's corner. Then place the template on your table to match it to the radius that matches to your table's radius.
If you can not get an accurate corner radius, you can always trace it, scan it and send it to us (by email or mail).