Table Pad Features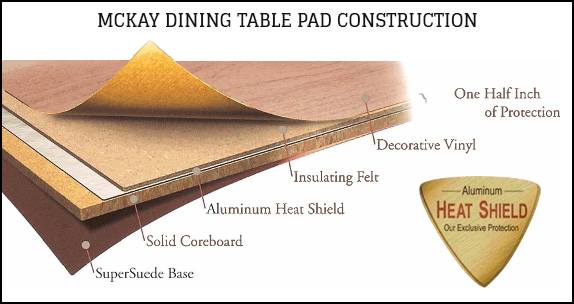 Full ½" thick
Helps to protect your table from spills, dents and scratches.
550 degrees of heat protection
Exclusive aluminum heat shield
Helps to protect your table surface from accidental heat damage.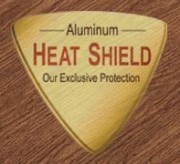 Patented Pivot-Lock System
Positive Locking action, prevents separation of the table pads.  This easy to use, standard feature, is included on the table pad at no additional cost. Patented Pivot Locks securely lock the table pad and leaf pad sections together with a positive locking action. U.S. Patent 5,244,710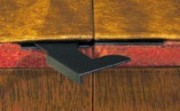 Heavyweight Vinyl Top Coverings
Washable exclusive wood grain and leather look coverings, matching the wood tones and finishes currently being shown in stores. Available in 20 colors.
Elegant Soft Velour Base Material
Pampers the table top and is easier to clean and maintain. Available in 6 colors.
Solid coreboard construction
Stronger, more rigid and resists warping, yet is lighter and easier to handle and for storage.
Lifetime warranty
All pad pieces fold for easy storage